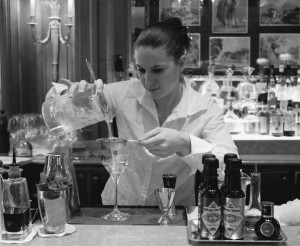 Sophie is our fifth contender here! She's 23 and originally from a suburb of Paris. She's worked in Paris, Scotland and Costa Rice before moving to Geneva.
Where do you currently work, and what makes the bar special?
I currently work for the bar des Bergues at the Four Seasons Hotel in Geneva. This luxurious hotel bar is known in town for its excellence of service and its young and dynamique team who drives its unique atmosphere.
If you got to open your own bar, what kind of place would it be and what would be the signature drink of this bar?
If I got to open my own bar it would probably be a very small place where people would come to be surprised. The kind of place that is hidden from the crowd, and hard to find. The idea is that guest would come for the mixologists' creativity and personality rather than for getting their usual cosmopolitan. Drinks would be made with products from all over the world. I will try to have rare liqueur or organic plants, herbs or fruits that will bring the surprise in the drinks. The signature drink still need to be defined!
What was your most rewarding experience in your bartending career?
To be honest my bartending career is pretty young… and I would say that its most rewarding experience was its beginning. I felt so grateful when my manager Alexandra Woo first gave me the opportunity to start as a barmaid, and then when my colleague and mentor Gregoire Leclerc taught me his passion and help me to develop my skills. They both believed in me and I thank them for making my bartending career so blossoming and challenging. Reaching Wold Class Swiss final is just the achievment of this strong team spirit.
What is the recipe with which you made it into the World Class final, and what was your inspiration for it?
For the world class final I created the cocktail "Warm me Up". I just imagined what would a perfect winter evening be like…After a skiing day, being with my best friends, by a fireplace, playing nice guitar music and having a nice drink. The warm of fire, friends, music, ambiance and drinks were then combined in the presentation.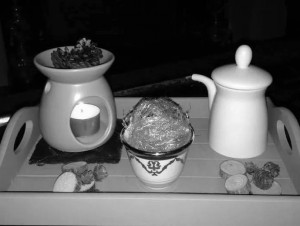 Warm Me Up
2015-04-30 16:13:56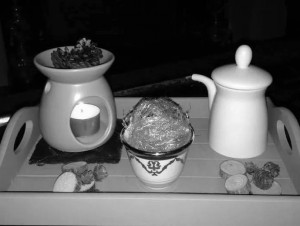 40 ml Zacapa 23
120 ml hot masala chai (cooked in milk)
2 bar spoons dulce de leche
1 dash chocolate bitters
Garnish with caramel ball
bartending.ch http://bartending.ch/wp/
What's your main advice for young bartenders who are just getting started?
As a young one I would rather say what it works for me so far… Grab any opportunity to meet other bartender, professional or passionate. Be curious, do not hesitate to try and discuss your idea and ask for feedback.