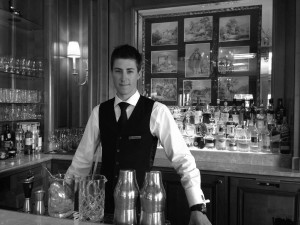 Grégoire is the fourth finalist presented here. He's 25, was born in Bordeaux, France and lives in Geneva since his childhood.
Where do you currently work, and what makes the bar special?
My studies was about business and comptability, during a training at the Four Seasons Hotel des Bergues in geneva, I touched some bar tools and felt in love with this atmosphere. Since this time, bartending became my job and a big part of my life.

Worked in differents places and came back at Four Seasons Hotel des Bergues, which is where I'm currently working, since 2,5 years. This bar is a place where the quality service is the most important, to create and provide a luxury and an "at-home atmosphere" for our guests with good food and of course good drink. Bar des Bergues is becoming specialised in cocktail spirit by new creations, new staff and so new ideas.
If you got to open your own bar, what kind of place would it be and what would be the signature drink of this bar?
My own bar would be a mix of time, old drinks in the new world. An "historical new" bar! I love classicals and forgotten cocktails, offering old and revisited recipe of a Rob Roy for example.
What was your most rewarding experience in your bartending career?
The world class is my best experience, it makes you give the best of yourself, and the most important, it develops your skills fastly by opening your mind with other style of bartenders, you meet a lot of impressive talents, and new relations.
What is the recipe with which you made it into the World Class final, and what was your inspiration for it?
My 1st burst recipe was "Let It Gold". I developed the great taste of the Gold Label with homemade syrup honey and cinnamon, christmas bitter. It was served with hot roibos tea on the side to create a difference of taste of the same drink if you enjoy the tea before, or after the cocktail itself. Playing with your senses! 🙂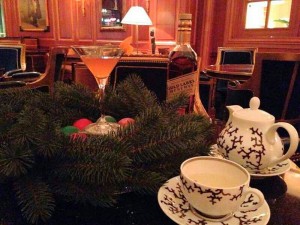 Let It Gold
2015-04-29 14:21:19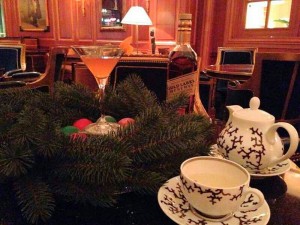 60 ml Johnnie Walker Gold Label
20 ml homemade honey-cinnamon syrup
1 drop Christmas bitters
0.5 barspoons Sichuan pepper
Garnish with mandarin peel
Serve with rooibos tea by the side.
bartending.ch http://bartending.ch/wp/
What's your main advice for young bartenders who are just getting started?
For young bartenders, always get inspired by classical drinks, never doubting about the potential of every product you can use, going around and trying some good cocktail bar, trying and having fun!