This article is one in a series of six. Here I present the winning Bacardi Legacy cocktail of the last six competitions. Starting today with the first winner, the Mulata Daisy by Agostino Perrone.
The Mulata Daisy, Ago's Bacardi Legacy cocktail
A mulata is a person with one black and one white parent; but it is also a symbol of Cuban culture. According to one undergrad mixed race studies article:
In many ways, la mulata is representative of Cuba's sexual, racial, and economic hierarchies. On the one hand, la mulata is a living emblem of Cuba's histories with imperialism and slavery, mirroring Cuba's exploitation by white male foreigners. On the other hand, la mulata is portrayed as a manifestation of Cuba's tenacity and diversity, particularly during the Special Period when jineteras, who were often characterized as mulatas, drew tourists and capital to Cuba.
Ago's drink builds on the less known Mulata Daiquirí, which originally is aged rum, dark crème de cacao or coffee and lime juice. According to Difford's Guide, the recipe originates from the 1940s. But let me tell you, he's turned this drink around, and it's quite possibly one of the best drinks I made this year.
The Mulata Daisy builds on the pairing of chocolate and fennel, which is not obvious, but divine. For me, chocolate always comes across as an easy way to please the crowds, but he we have ourselves a refined, thoroughly novel, perfectly balanced drink. I think Ago really managed to do here what only few have managed: To create a completely new, but approachable, memorable taste. (Note though that the rum shifts into the background, adding structure, but little taste to the drink. Because of that, it makes little difference if you use the standard Bacardi or the 44.5% one.)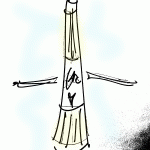 The idea of the rim is ingenious and essential: It dries out the drink, and thus helps to balance the sweetness. It adds a delightful nose, and also, when taking a sip, the cacao powder first dries out your mouth, making the following sip much more enjoyable.
In the end, the drink is fairly elaborate for a so-called classic, dissolving caster sugar in lime juice, rimming the glass with cocoa powder, muddling the fennel seeds and rinsing the glass with Galliano.
I spend a great deal of time trying to find shortcuts: The caster sugar can easily be replaced by simple syrup, and the ritual with rinsing the glass with the Galliano doesn't add much to the drink. The drink tastes quite the same when the Galliano is shaken together with the remaining ingredients.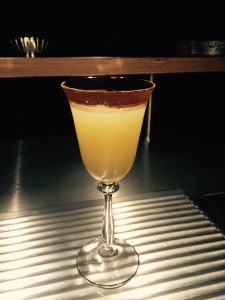 Mulata Daisy
2015-08-26 21:15:48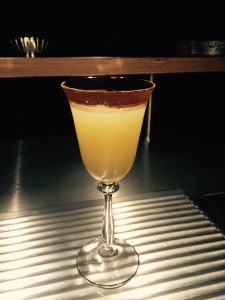 45 ml Bacardi Carta Blanca
20 ml fresh lime juice
5 ml sugar syrup (1:1)
1 barspoon fennel seeds
15 ml dark crème de cacao
10 ml Galliano authentico
Cacao powder for rimming.
Rim coupette with cacao powder. Muddle fennels seeds, then add remaining ingredients and shake, then fine-strain drink into glass.
bartending.ch http://bartending.ch/wp/

Further notes: Absolutely make sure you get the Galliano authentico, not the Galliano vanilla. Both are very nice, but the latter lacks the anise-notes that the former has and that are essential to this drink. Also, if you don't have fennel seeds, try rinsing the glass with absinthe. The absinthe will considerably dry out the drink and change it, but it will give you an idea of the fennel-chocolate pairing.
Excursus: Rimming Masterclass
Origins: The Mulata Daiquirí
Personally, when I hear Daiquirí, I expect a extremely refreshing, bone-dry drink, so I don't think dark rum is a particularly fortunate ingredient. Indeed, I find the drink is greatly improved if you use some higher-proof light rum.
I played around with Matter-Luginbühl's spectacular Crème de Cacao, which puts a lot more emphasis on the dry cacao notes rather than the creamy chocolate notes. This dry cacao flavour helps to make sure the drink doesn't get to sticky, but stays nice and refreshing. The white crème de cacao might seem superfluous, but it is essential to tie everything together. It connects the light rum with the dark crème de cacao, which otherwise would sit somewhat unconnected in the same glass.
Finally, I find Ago's idea of the cacao powder rim an extremely good idea also for this drink. Using my recipe, you will find a fundamentally different drink from Ago's.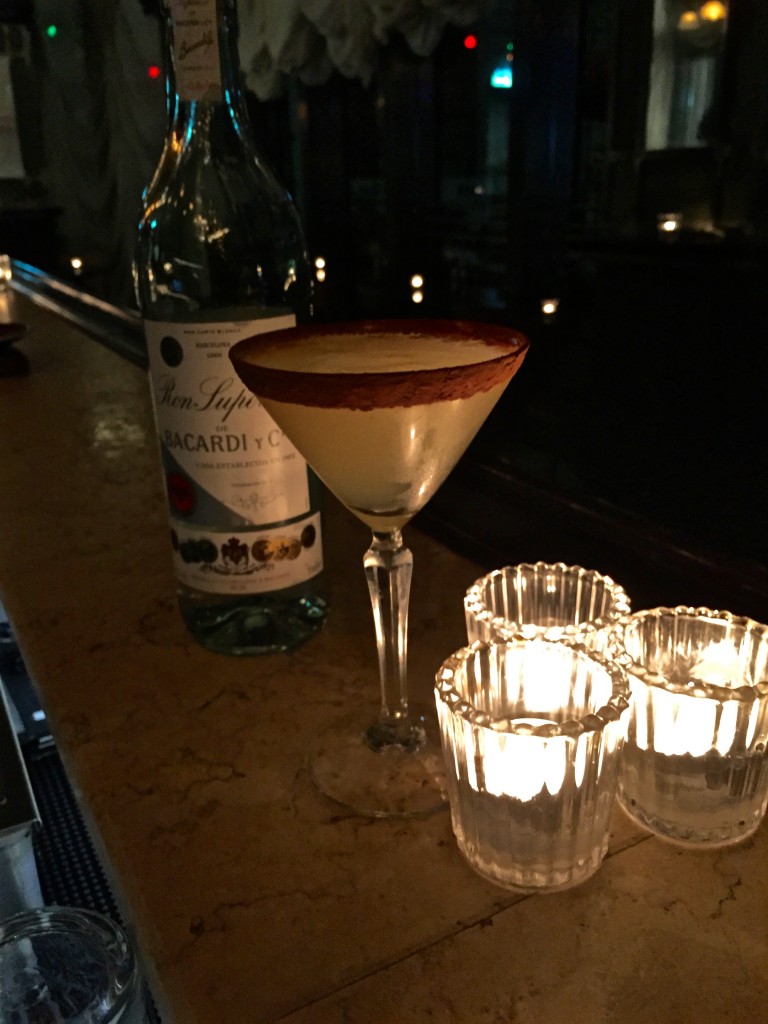 Mulata Daiquirí
2015-08-28 00:20:39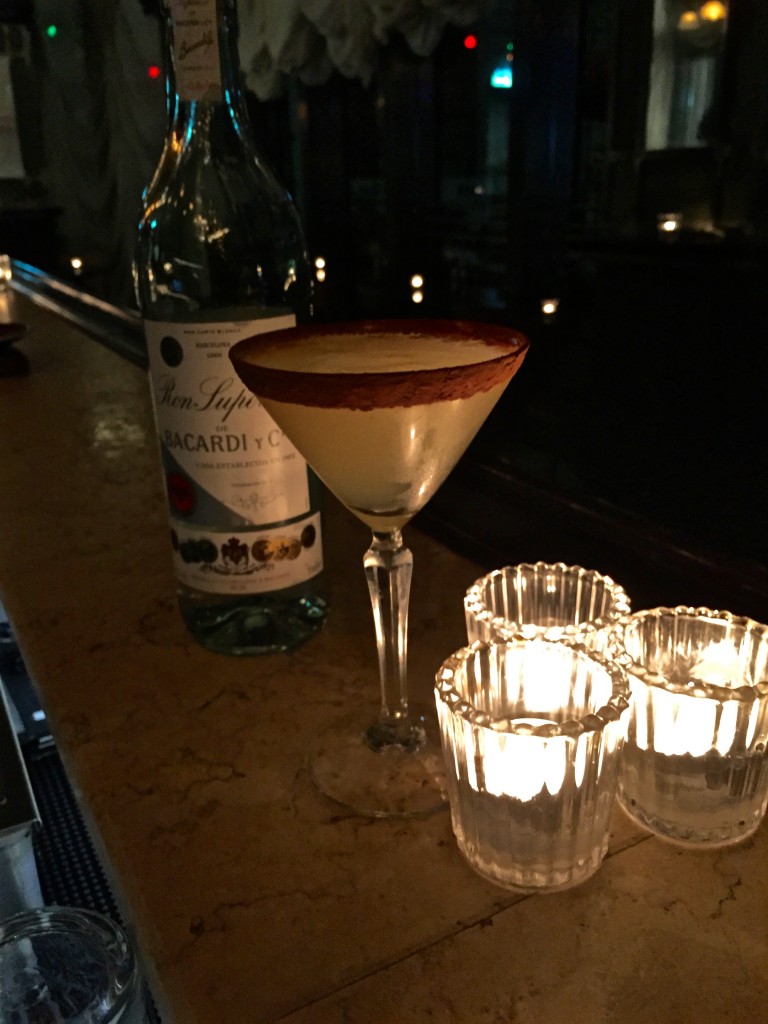 50 ml Bacardi 44.5%
25 ml fresh lime juice
10 ml dark crème de cacao (preferably Tempus Fugit)
5 ml light crème de cacao
Rim coupette with cacao powder. Shake in a cobbler shaker, and serve in a chilled, rimmed glass.
bartending.ch http://bartending.ch/wp/