8 years or more, 45% abv, 62 CHF (82 CHF for 1l), an extremely well-made, understated Tennessee.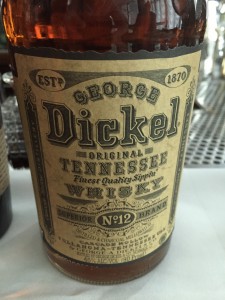 This is the other famous Tennessee whisky; and dear my, it's a little pearl. It is produced at the rebuild Cascade Hollow distillery near Tullahoma; however, it is bottled in Louisville, Kentucky. The brand is now owned by Diageo, who started to promote the products since 2002.
Special about this Bourbon, according to Alcademics, it it's proprietary yeast string, its single story warehouse and the cold mellowing. This means that theBourbon is chilled down to about 4°C before being dumped in a vat that is filled with sugar maple coal and left to rest for up to 10 days. Basically, this is what is called chill filtering in Scotch. What this does is that the compounds resulting in vegetal aromas solidify and can be filtered by the coal, and thus results in a smoother product.
And one more difference: They spell their product whisky (rather than the more common whiskey), because the company believed their product was so good as to parallel the quality of Scotch.
In the tasting we found it a thoroughly agreeable Bourbon, and noticeably drier than Jack Daniels. However, it won't blow you out of your socks.
The nose is a bit weak, but lacks the common acetone notes, and giving way to vanilla, caramel instead.
In the palate we found a very tamed sweetness, lots of salted caramel, a bit of butter and a slight smokiness.
The finish offers some tannins, again some smoke, a very approachable complexity.
A good word to describe this Bourbon would be understated; you can't go wrong with this Bourbon, and it has a good complexity to it; but it's not the kind of Bourbon that makes a big, bolt impression.