No age statement (presumably around 8 years), 46.85%, 79 CHF, Big, bolt flavours, confusing.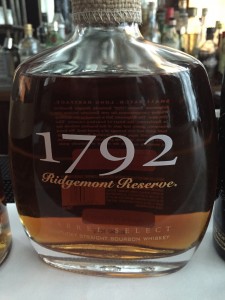 This Bourbon is produced by the Sazerac company and distilled at the Barton distillery in Bardstown. It used to be called 1792 Ridgemont Reserve, but was renamed to just 1792 following a lawsuit with Woodford Reserve, who sued them for trademark infringement. (The picture to the left is an older bottle.)
The name is in reference to the year when Kentucky became a state. Besides that, little is known about how this Bourbon is made, but we can assume that the mash bill is fairly high on the rye.
It was named Bourbon of the year by Jim Murray in 2013; but in our tasting we had to disagree. While it certainly has some big flavours, we found them to be confusingly, inharmoniously arranged.
In the nose first some ash, which dissipates after a while, then cut grass and a dense forest smell. On top of that some glue, caramel and some pineapple in the back. As I said before, very challenging nose.
The palate, more caramel, much more red apple and some white pepper. Intense flavours, but hitting the tongue in different spots separately, rather than forming one concert.
The finish is quite long, some burned caramel coming through; stickingly sweet, too.
We were not to sure what to make out of this Bourbon. Certainly not a bad one, certainly not boring; but a bit confusing maybe.